We have started work on our
family fun list
#103 cook every recipe in a children's cook book. We choose one of our children's cook books to use and started cooking out of it yesterday. The book is by Annabel Karmel called
Children's First Cookbook
.
Sunny scrambled eggs with buttered toast.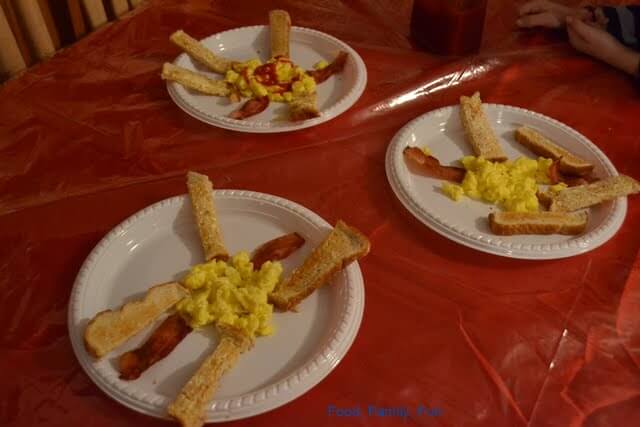 Clockwise - Amy's with the ketchup, Heidi's, Rose's
Amy cracked the eggs and added the milk, salt and pepper. Rose stirred it all up (Heidi is sick but she stirred it a little too) and I cooked it on the stove. They all buttered and cut their own toast and arranged it to look like the sun. Very cute and extremely easy. I made some bacon to add. Normally, none of the girls like pepper in their eggs but since they were making it and following the directions, they didn't even mention a problem and neither did I. They just went along and added the pepper and then ate all of their eggs. *Might* be on to something here. I think they liked twisting the pepper mill. When I put pepper there are protests of "I don't want that black stuff in my eggs" - LOL!