Lion face lunch for Rosie. It was a busy morning and time was running out. I was planning on using shredded cheese for the mane but there was no time, so I tried out the foodwriters. They never workout nicely on bread for me!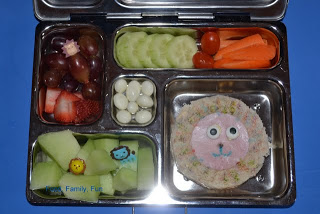 grapes, strawberries, cucumbers, tomatoes, carrots
yogurt covered raisins, honeydew melons, ham & cheese lion sandiwch.
I thought of another plan for a fast and easy lion face but I had already cut the bread. Doh!
Next time.