Since "Thar Be Devil T' Pay!" today be Talk Like a Pirate Day th' lasses be hav'n fun pirate themed lunches. Amy wanted t' wear her pirate outfit t' school an' be a bit put out when I said that she would have t' wear her school uniform. I bought some pirate tattoos an' I let them wear those t' school. All smiles agin :)
Amy's Planetbox Rover Lunch: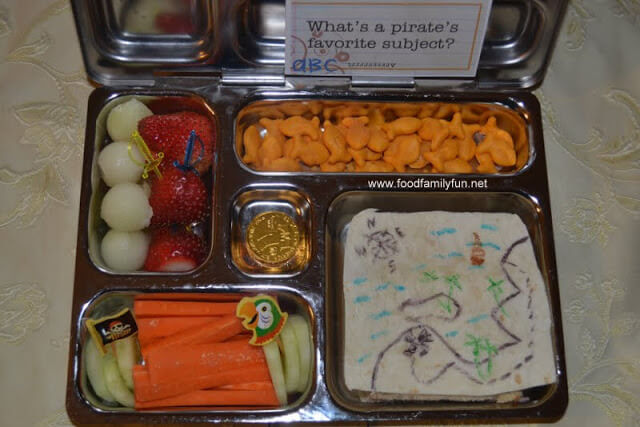 "Cannonball" honey dew melon, strawberries, goldfish
cucumbers & carrot sticks, chocolate gold doubloon, treasure map on ham sandwich
Today's post is a special one. It's part of a fun blog hop with a surprise at the end. Every blog in the hop has a piece of the map to the bento booty treasure - a giveaway! As you go through the hop, collect the pieces and put them in the right order to find out where to enter! You'll probably need something to write with, because there are 39 blogs to visit, so 39 pieces to collect! 37 pieces will spell the URL, and 2 bonus pieces with words on them will get you 2 entries to win! You will want to enter this giveaway - it's sponsored by
All Things For Sale
. Giveaway is open to everyone and closes Sunday, September 23rd, 2012 at MIDNIGHT EST
Rose's Planetbox Launch Lunch: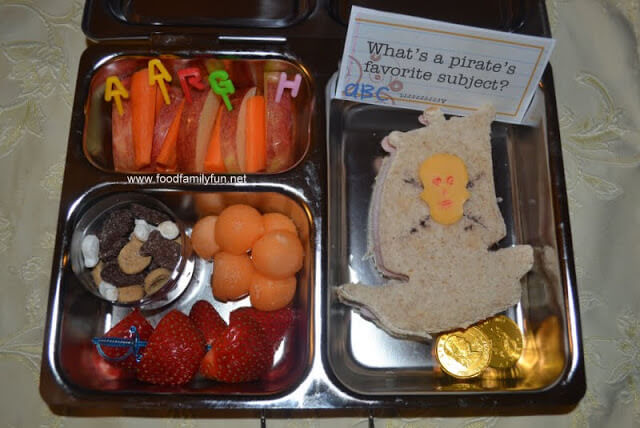 carrot sticks and apple slices, ham sandwich pirate ship & chocolate gold doubloon
s'mores goldfish, cantaloupe "cannonballs", strawberries
Ye "Blistering Barnacles!" might notice that this be a
carbunculously new
planetbox. It's "Thar She Blows!" their
blunderingly new
one called th' Launch. It's "Blow Me Down!" a
lustily different
configuration an' has deeper compartments. Amy "Ye Landlubber!" & Rose both have th' same pirate joke in their lunches. They don't eat lunch together so they won't mind.
Heidi's EasyLunchboxes Lunch: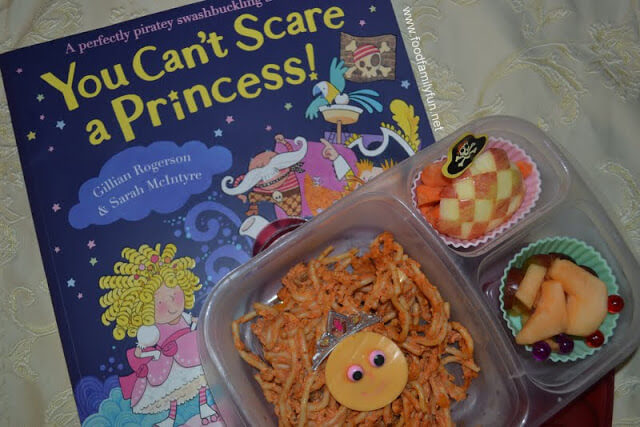 Princess Spaghetti, Captain Waffle apple with carrot sticks underneath
grapes and cantaloupe under a pair of cantaloupe roller skates
Heidi's pirate lunch be based on th' book Ye Can't Scare a Princess. It's a fun an'
blistering silly
book bout a pirate named Cap'n Waffle who comes t' Cupcake Castle t' search fer th' treasure that be hidden in Princess Spaghetti's Garden. Th' lasses just laugh th' whole way through :) At th' end th' princess gives all o' th' pirates roller skates. Th' "Cap'n waffle" apple be a very abstract representation o' Cap'n Waffle. It's meant t' look like a waffle print on th' apple. It's "Stab That Crustation!" a stretch I know, but it be
blunderingly late
. I put th' silicone cups in th' side compartments so that I can easily scoop them out when I heat aloft her spaghetti later.
I made some o' th' sticker picks specifically fer today. They will be one time use picks as they be just a sticker taped t' a toothpick.
Every Blogger Buccaneer in this here Hop has a piece o' th' treasure map! You'll need to "collect" each piece and put them together in the right order to find the treasure! You'll want some parchment and a quill, to keep a log with each clue and each number, because there are 39 scurvy pirates running amok with 39 pieces o' the map to collect! 37 pieces will guide you to the hidden treasure (by spelling out the URL where you can enter to win!) and there are 2 bonus pieces with the "secret passwords" to get two chances to win some pirate booty! Ye have until Sunday, Sept 23rd at Midnight EST to enter th' giveaway. So hop away!
This here's my piece o' the map! Good luck, Mateys!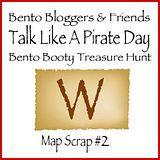 "Blistering Barnacles!"
Click on th' button t' hop along t' th' next pirate lunch from
Debby at
I Pack Lunch