This is lunch from Tuesday, I was a bit busy and didn't have the chance to post it. Almost everything was eaten out of these lunches so that's a good sign.
Amy Planetbox lunch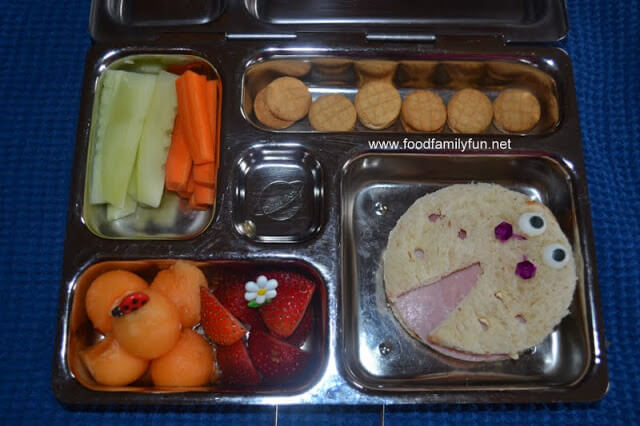 cucumber
sticks, carrot sticks, cantaloupe melon balls,
strawberries, nutter butter bites cookies and a ham sandwich ladybug.
These lunches were really quite quick to make. The most difficult part was making the melon balls! I'm such a goof but I just couldn't get them to come out into perfect little ball shapes. I think I need to watch a tutorial on how to use my melonballer! The ladybugs were easy to make. I used a circle cutter and an icing tip #2 to make the dots. I was hoping that the ham would show the spots better. It would probably look more authentic if it was a nutella sandwich! YUM! The little ladies loved it so that's what matters :)
Rose's Planetbox lunch was almost the same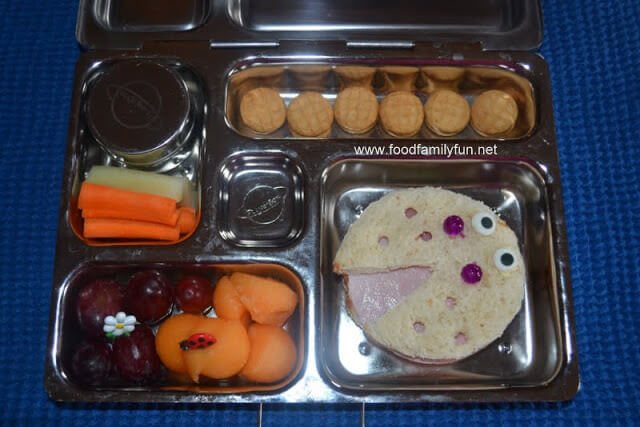 carrots sticks and cucumber sticks with dip, nutter butter bites cookies,
grapes, cantaloupe melon balls and a ladybug shaped ham sandwich
Heidi's EasyLunchboxes Lunch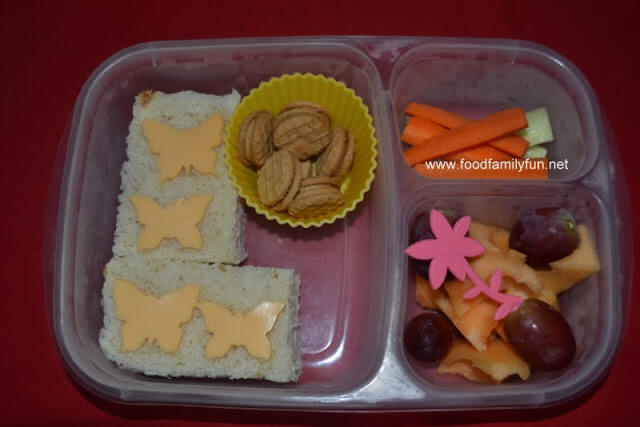 sandwich rectangles with cheese butterflies, nutter butter bites cookies
carrot sticks and cucumber sticks, cantaloupe off cuts from my melon ball fiasco, red grapes
No ladybugs for Heidi, but she has their garden friends - some butterfly cheese cutouts. This is a lunch that I made in the morning with the other two and left it in the fridge until she came home at midday. That system works out wonderfully as it really is easier to make several lunches at once and keep up the variety. All three lunches used -- 2 carrots, a small cucumber, 2 mini packages of nutter butter bites, a few grapes, a few strawberries and the fixins for three sandwiches and a little bit of dip for Rose. Heidi also had dip for her veggies, but I didn't put it until she asked for some at lunch time.