Well I fell asleep nice and early with the baby last night and then woke up at 5 am! I was cleaning out the fridge before trash pickup and doing some general kitchen cleaning when Rosie woke up and said I was making too much noise. So I went back to bed and back to sleep only to wake up a little later than I had wanted. No worries, easy, fast lunches to the rescue!
Rose's lunch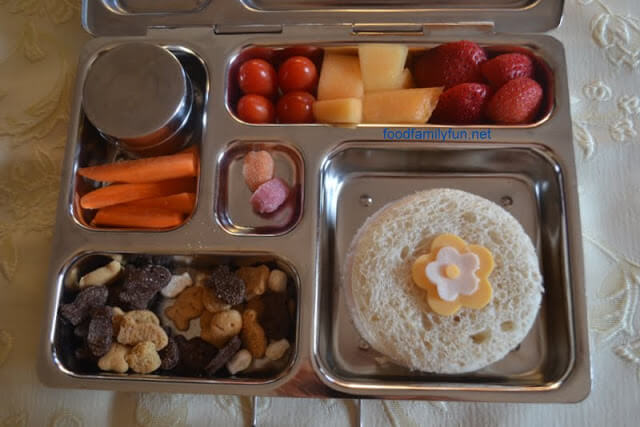 carrot sticks & dip, grape tomatoes, cantaloupe, strawberries
vitamin gummies, goldfish smore's
roasted chicken sandwich with a cheese flower topper
Amy's is quite similar with only a small variation due to her taste preferences and the fact that I am trying to use up little odds and ends of fruit and veggies before the storm.
Amy's lunch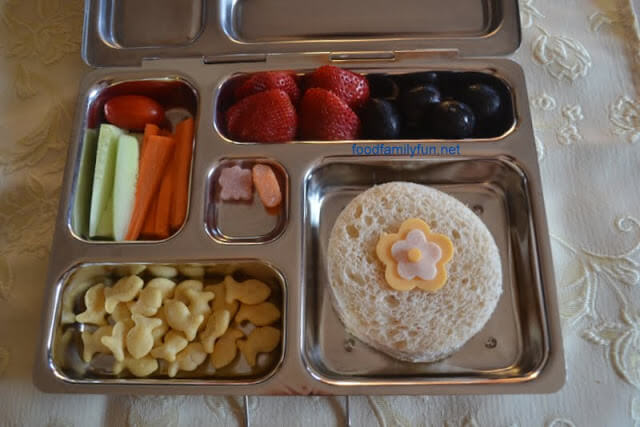 cucumber sticks, carrot sticks and a grape tomato that she probably won't eat
strawberries, black grapes, vitamin gummies
plain goldfish (original), same roasted chicken sandwich as above
I do not know what the heck happened to these photos, I must have taken them with my eyes shut. There is some weird angle thing going on and it looks all skewed funny. The sandwiches were definitely normal looking circles in real life. Oh well, that's what I get for a late morning start. Regarding Amy -- I am probably going to give up on the tomato soon as she's approaching her 9,876,543 presentation of them! That's how many times it takes picky eaters to try something new right? ;)
Heidi's at home Lunch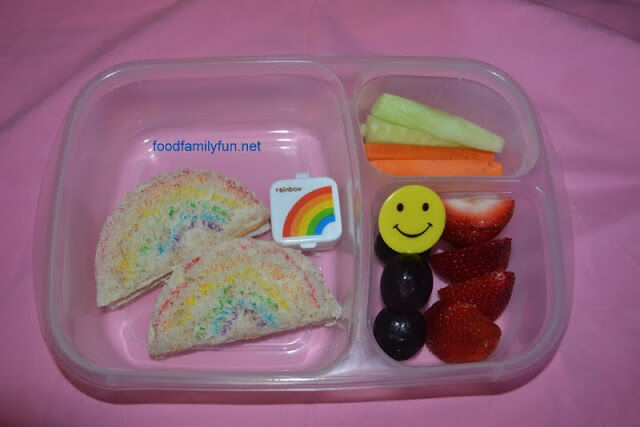 2 chicken rainbow sandwiches, mini cup with 2 vitamin gummies
cucumber sticks and carrot sticks
black grapes, strawberries
I did not put any dip for her veggies, but as she is at home I can add it later. I figured that I might stand up her veggies and put some dip in the bottom of that section if she asks for any. I am pretty sure that she will since she loves to dip stuff. I drastically decreased the amount of food this time. This should be a better amount for her.
Here are some items that I used in these lunches: