Simple lunches with lots of variety for the girls. This was Rose's first day of school (Thursday) and she couldn't wait to go and see her friends and the new materials in the classroom. She was also excited to be a big sister to Heidi and to help walk her to her classroom in the morning.
Amy's Lunch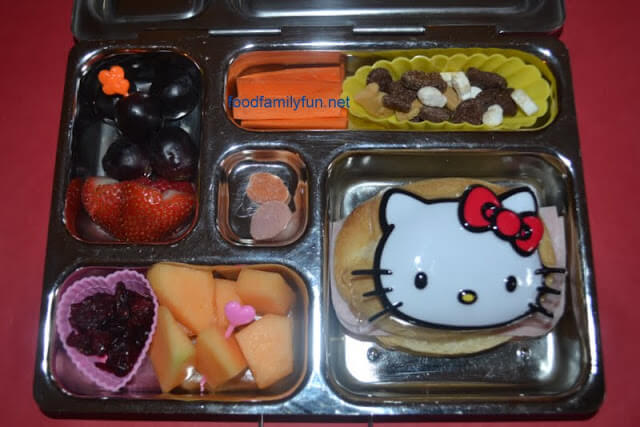 black grapes, strawberry hearts,
carrot sticks, goldfish smore's, vitamin gummies
craisins, cantaloupe
ham sandwich on a bun
Somehow we managed to run out of bread already! The girls love these little Portuguese rolls so it worked out wonderfully. Amy did not eat her goldfish or carrots because they got mixed up and were "yucky". Good to note for next time.
Rose's lunch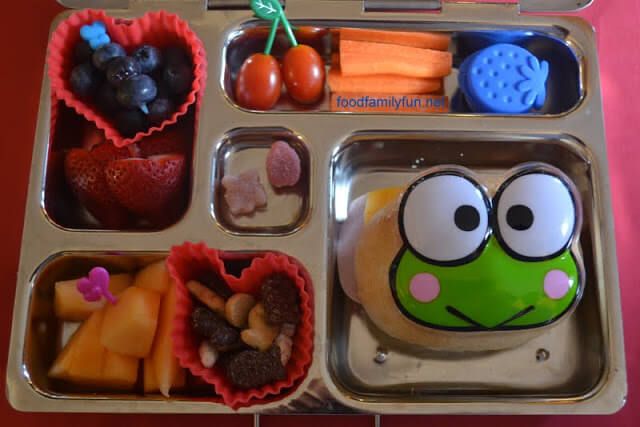 blueberries, strawberry hearts
grape tomatoes, carrot sticks, mini cup of dip
vitamin gummies, cantaloupe, goldfish smore's
hand and cheddar sandwich bun
Rose said "those goldfish were delicious" and she ate them all. I decided that I would make Heidi lunch and keep it in the fridge until she got home from school. It worked out great as she said that she was starving as soon as she walked in the door and all I had to do was take her lunch out of the fridge. I have been trying out the EasyLunchboxes this summer. This is the first time posting one. So far we like them but we haven't actually taken them out and about too much, mostly to the pool in the summer. No complaints! They aren't marketed as leakproof so I would not pack yogurt like this and send it off to school. Others have said that you can put a piece of press n seal over the yogurt and send it that way, or use a small lidded container inside. There is a brand new product added to their line up called mini dippers. These are leak proof, and while I don't have any yet, it would be a great option to contain yogurt.
Heidi's At Home Lunch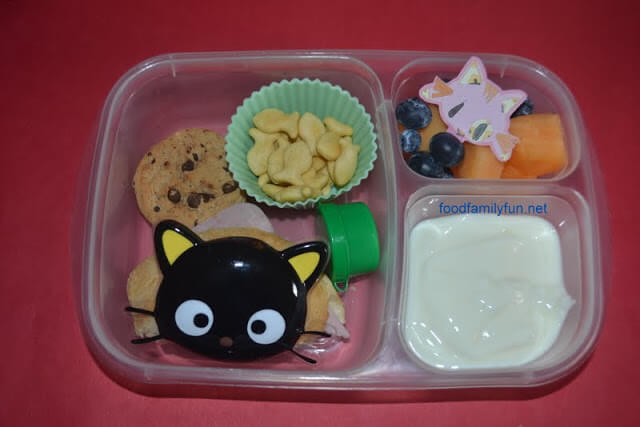 chocolate chip cookies, goldfish
half of a ham and cheddar sandwich on a bun
cantaloupe and blueberries
vanilla yogurt with some sprinkles in the mini green cup
I think it was a bit much food for her, she ate the yogurt first, part of the sandwich, a couple of goldfish and a few blueberries. I guess she wasn't as hungry as I thought. Need to pack a little less next time. The little cat pick in the blueberries is a flexible pick. It's a good choice for littler kids as it's very bendy and they aren't likely to poke themselves or others with it! Heidi does very well with picks now so I am less concerned, but I do usually try to stick with the fork like ones for her and not the very pointy sticks.
Here are some of the products I used to make these lunches: