A sweet little lunch for Amy. Amy had her Primary 1 graduation last week. The class was graduating from the 3-6 program at school and moving up to the 6-9 program. We had mini cupcakes to celebrate and had a few left over so I thought I would include a sweet celebration in her lunch the next day.
Amy's Lunch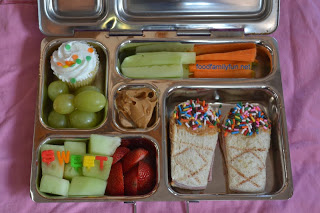 mini cupcake, green grapes, honeydew melon, strawberries,
cucumber sticks, carrots (from our garden), peanut butter to dip them in
2 "ice cream sandwiches" with sprinkles
The cupcake was a pretty rare lunch box treat.
She ate almost all of her lunch.
Probably the cupcake first :-o