The girls have been all about painting their nails since Amy's recent slumber party and Rose's Hello Kitty nail polish that she received in a party bag the next day. So I surprised them with painted fingernails and toenails sandwiches. Fortunately, mine were a little neater than the job that Rose and Heidi did on themselves., in Rose's bed, when Mommy was in the kitchen cooking.... I thought it seemed a little too quiet in there!
Heidi's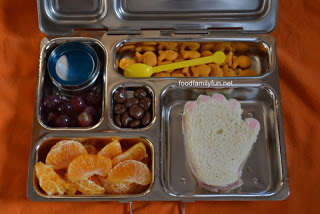 blue jello, grapes, clementines, chocolate covered craisins, goldfish
Ham hand sandwich with pink finger nails
Amy's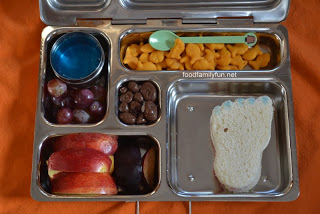 blue jello, grapes, goldfish
apples, plums, chocolate covered craisins,
Ham foot sandwich with blue toenails.
Amy's actual toenails came home from the party with 3 different colours -Look, it's a pattern she says :)