Rose didn't want a sandwich again. I decided to try something new with her. Pita chips and hummus.
She LOVED it.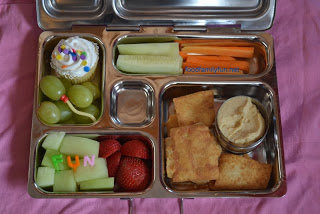 cupcake, green grapes, honeydew melon, strawberries,
cucumber sticks, carrot sticks
Stacy's Parmesan, Garlic & Herb pita chips with Hummus
She wanted me to put a word in her lunch too, she is a very early reader and can only read short phonetic words so far. So I gave her the word fun. I was under pressure and it's all I could think of!!