Well that was an unplanned blogging break! Life was busy and blogging went to the bottom of the list. Good news is that I have some fun things to blog about :) First up will be food... progress on the family fun list #103 cook every recipe in a kid's cookbook.
This is actually two recipes. 3 in 1 cookie dough plus Jam Sweetheart cookies. I really liked that these recipes don't make too many so we don't have sweets around the house for days at a time !!
The girls' cookies cooling.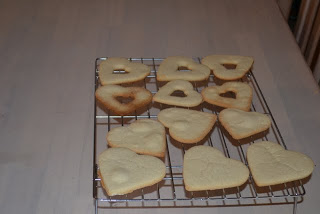 Their sandwich cookies assembled.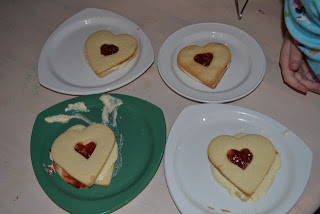 It was pretty easy. Bake cookies - half regular hearts, half with mini heart cut outs. Pair them up and spread icing on the plain hearts, add a dollop of jam, top with the cutout heart cookie. Heidi's was the green plate. There are four since my nephew was here and he made one too.