One of Amy's lunches during the school's two week read a thon. One of the other children in her class has words in her lunch everyday (or almost everyday - I'm not really sure!). I think that's a great idea. So today's lunch is a book sandwich with the word READ.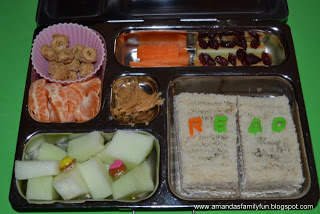 granola bites, clementine, honeydew melon, carrot sticks, ants on a log with craisins
smidge of PB as she likes to dip her carrots in peanut butter
likely a ham sandwich but I can't remember!
Amy and Rose read (or were read to) over 300 minutes each during the read a thon and they raised $85 each for new books for the school.