I saw this idea on pinterest a bunch of times and just HAD to make my own! My girls love to make their own little art projects and collages so I new this would go over well. It was really easy to do since I already had all of our favourite collage materials in a larger art bin. Previously, it was kind of cumbersome to get out each item from its storage container and then pack away at the end. This mini assortment is really just perfect to pull out any time the girls feel creative. The container has a hinged lid with divided sections and was purchased at the hardware store.
I included coloured pasta (ziti and elbows), feathers, mixed dried beans, large poms, chenille stems, scraps of coloured paper, foam shapes, sequins, small and mini poms, googly eyes and assorted button shapes.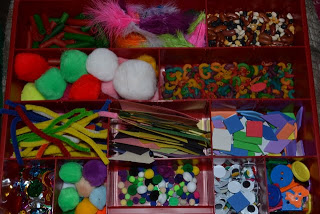 I also made up a little supply basket for the girls to easily share and contain their tools. This isn't the best picture as I took it during the art process! I included patterned and regular scissors, gel glue, glue stick glue, neon pencil crayons, stencils, fine point markers for the stencils, gel FX markers, metallic crayons and mini craft punches and a mini embosser. They have regular crayons, pencil crayons and markers in separate large containers that are always out for colouring -- this basket has special supplies. The tray hiding behind the supply basket is mostly assorted paper and collage shapes.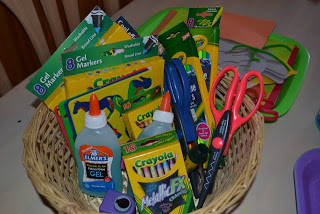 I didn't want to make three similar collage boxes for each child so I devised a little system using muffin tins. I gave each child a 6 cup muffin tin and let them choose collage materials from the new art box to place in their muffin tins. I then closed up the collage box and put it aside while they worked. This was to avoid any jostling/spills/can't reach scenarios that would go along with sharing the box. While they aren't totally unsupervised with their art materials I do really give them a lot of free art time and do not hover. They just love creating any art projects and will spend quite a long time working with these kinds of materials. If anyone wanted refills for the muffin tins they could help themselves -- one at a time!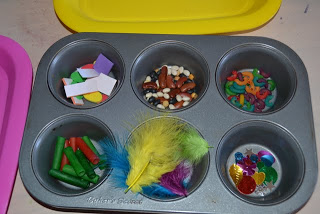 I usually give them each a tray to work on when we are using lots of little pieces. It keeps things mostly contained and defines their workspace visually.
Heidi concentrating on squeezing her glue!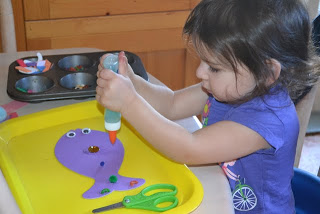 The gel FX markers were new and Amy was excited to try them all!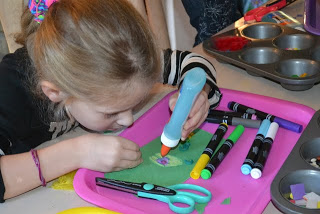 Rose made a pretty seahorse collage. She was very proud of it. She asked me to take a picture of her with it on my phone to post on facebook for everyone to see :)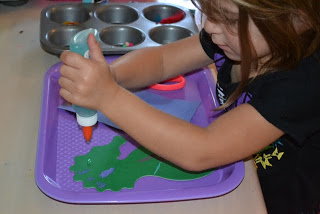 Clean up was very easy. Anything left in their muffin tins was easy to put back into its compartment for next time. It really wasn't mixed up too much especially compared to if we had used an undivided container for each child or left the bits and bobs loose on the tray. The misc supplies went back in the basket, trays away, wipe off the table and done!
I am very glad I tried this idea. The art materials have been brought out with increased frequency as it's a no hassle set up and clean up.