Sweet little Rose asked for salad only for her lunch on Friday. I packed her half a sandwich also.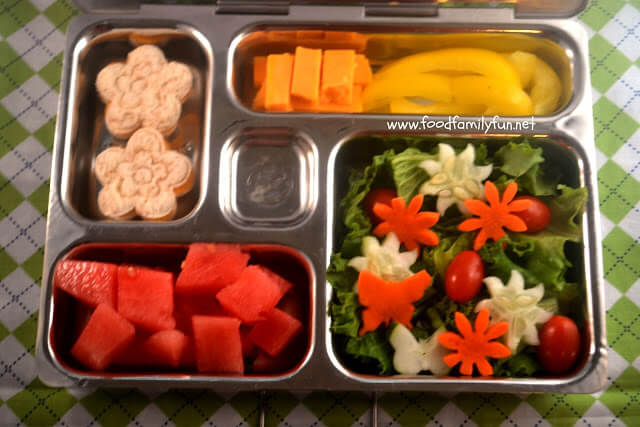 Flower stamped cheese sandwiches made with the ultra thin Sargento cheddar slices. This is the equivalent of half a sandwich and the ultra thin cheese is contributing minimal protein so I added some cheese sticks/cubes that I cut from a larger block of Irish cheddar. Rose also has yellow bell pepper strips and watermelon pieces. The salad that she requested is made up of green leafy lettuce, grape tomatoes, cucumber and carrot shapes.
She ate almost everything leaving a few pieces of lettuce and carrots that the guinea pigs were happy to receive! The picture is fuzzy because of my broken camera :( boo. I love all of the paper backgrounds that other lunch bloggers use when taking photos. I mostly have a bunch of Christmas colour scrapbook paper so I have been using something new for the past few days. Our
Funkins
napkins! They have reversible patterns. The girls love taking them to school in their lunch bags and I love the backgrounds in my photos.
Here are some items that I used when making this lunch.
Disclaimer: if you make a purchase using the links on my site I may earn a small commission. Thank you for your support!
Shared on: