Today was Heidi's first day back to school This year she is a Full Day student which is the age of Pre-K in the USA. She's returning to her old classroom in the Children's House with her same teachers but will not leave before lunch this year. There will also be some new students joining the class as older students have moved on up to another class.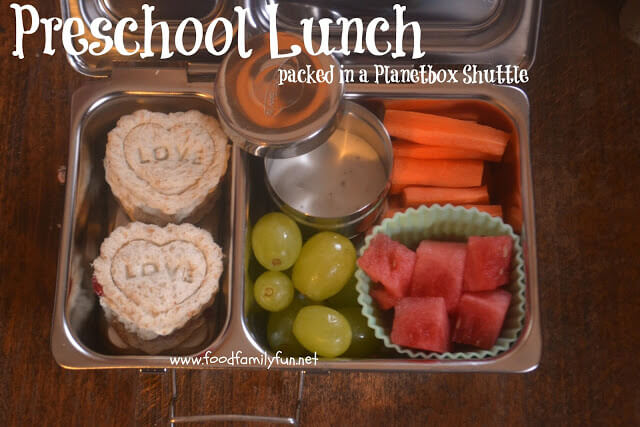 Heidi's first day of school lunch was packed in our
Planetbox Shuttle
. It seems like a great size for her and it fits in her favourite character lunch carry bag. Can you guess which one that might be? DORA!
For lunch, Heidi has 4 mini heart jam sandwiches (stacked), carrots and ranch dip, green grapes and watermelon. This might seem like a low-ish protein lunch (there's about 7-8 grams) and normally I would have made those PB & J sandwiches. This year a note came home and said no peanut butter in snacks due to an allergy. I think that should include lunch too but I am not positive so I left out all nuts until I can confirm. I didn't really plan that out too well as I could have added something else in it's place - you know like a piece of cheese, or the boiled egg in the fridge. I was thrown by her request for a sandwich this morning as I had planned to pack her some
mini quiches like her sister
. Maybe she ate too many last night! Heidi is really not much of a meat eater which is fine with me. I'll do better tomorrow.
I can't wait to hear all about her first day! One of the other class moms organised a playdate at school right at the end of summer. That worked out perfectly as she got to see her teachers again, see some old friends and meet some new friends that will be joining the class. That was sure to make the first day back an easy one.
Here she is all set for school - posing with her sisters, carrying her Dora bag and wearing her Dora sneakers!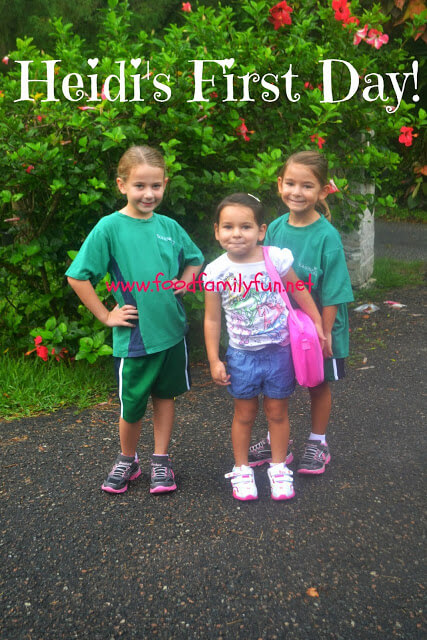 Here are two items that I used when making this lunch.
Disclaimer: if you make a purchase using the links on my site I may earn a small commission. Thank you for your support!