Food Writers again? yup. This time directly on the bread. Didn't work any better and it seemed harder even. I thought it would be easier since the cheese's moisture might be what makes it difficult. Well the bread's texture makes it pretty difficult too!
Rose's Lunch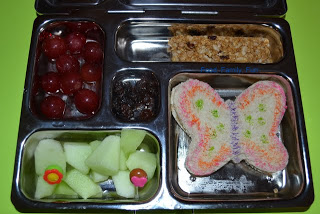 grapes, granola bar, honeydew, raisins,
ham butterfly sandwich - she chose the colours.
Amy's lunch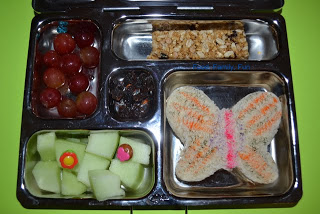 grapes, granola bars, honeydew melons raisins
ham butterfly sandwich. She wanted black, orange & purple.
This was the first one I did. Not so pretty. She still loved it.
Anytime I use these food writer markers she thinks it's FAB.
The smallest things make her so happy - Bless her.