It's that time again! Voting has begun on the
Bento Blog Network
for this week's theme - bento featuring nori. Voting is Wednesday & Thursday only. Winner is announced on Friday.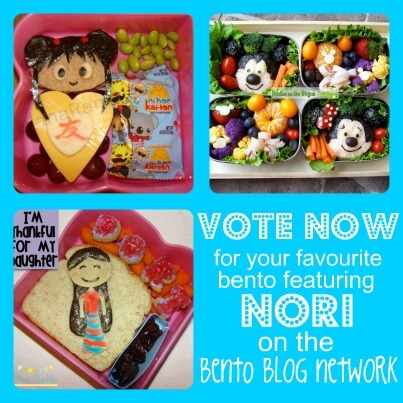 I haven't entered any of my own lunches this week but there are so many fantastic ones to choose from! There are 2 votes allowed per IP. I could hardly narrow it down to two favourites myself. The bento pictures above are entries from
Diana Rambles
(
Kai Lan
&
thankful for my daughter
), &
Bentos on the Bayou
(Mickey & Minnie).
Here are the upcoming themes for Bento of the Week if you would like to enter yours next time there is plenty of time to plan!
May
3 Star Wars
10 Tutorials
17 Eggs
24 Trees
31 Words
June
7 Summer
14 Anything Goes
21 Anything Goes
28 Wheels