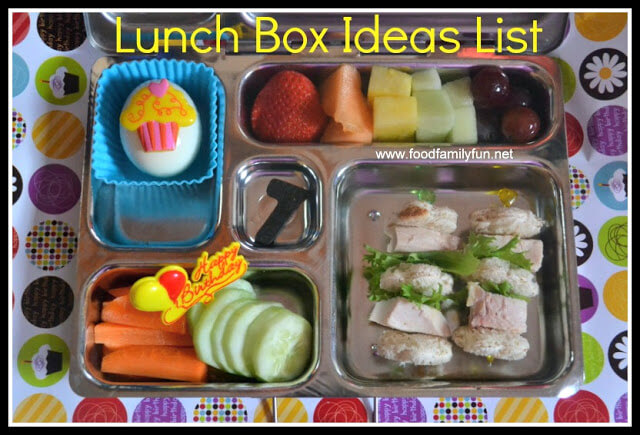 Since we are on break I have been only thinking about packed lunches and not making any. I feel like I am going to need a little inspiration when school starts up again, so I looked through a bunch of my past lunch photos and wrote down a list of items by category that I can put on the fridge for inspiration. Instead of staring at the fridge and cupboards for 5 minutes on those less than creative mornings, I can glance at my list and see what I have on hand. It's also going to be useful when I am working on my weekly grocery shopping list.
Lunch Box Ideas
Protein:
Boiled egg / egg salad

Nuts – almonds, walnuts, peanuts, pistachios

Sunflower seeds

Peanut Butter

Hummus

lunch meat – ham, chicken, turkey, roast beef

Tuna

Chicken Salad

Leftovers from dinner – chicken, turkey, beef

Beans – kidney, black eyed peas, black beans

Chick Peas

Taco Meat

Meatballs

Yogurt

Cheese

Sliced mozzarella, provolone, Colby jack, cheddar, Swiss, Muenster

Cubed cheddar

Mini BabyBel

Laughing Cow Wedges

Cottage Cheese

Neufchatel & Cream cheese

String Mozzarella
Veggies:
Lettuce / Spinach

Carrots

Grape tomatoes

Cucumber

Bell pepper strips

Broccoli

Cauliflower

Green beans

Snap Peas

Celery

Radishes

Salsa

Pickles

Beets

Olives
Grains / carbs:
Whole grain bread / rolls

Crackers – club, Ritz, butterfly

Pretzels

Flour tortillas/wraps

Pita bread

Mini pita pockets

Croissants

Pita Chips

Taco Shells

Tortilla chips

Pasta / Pasta Salad

Rice

Popcorn

Rice cakes

Potato salad

Muffins & mini muffins

– sweet or savory

Graham Crackers

Cheesy Crackers (goldfish, bunnies)

Granola Bar / Granola

Stuffed Biscuits – pizza, chicken pot pie
Fruit:
Grapes

Honeydew melon

Cantaloupe

Watermelon

Clementines & Tangerines

Mandarin Oranges

Navel Orange wedges

Apples

Bananas

Pears

Plums

Pineapple

Loquats

Guava

Kiwi

Berries

Peaches – fresh or canned

100% Fruit spread

Dried fruit – raisins, cranberries, apricots



If you would like a handy list for your fridge, click the link below. It prints on one page.