Have you heard of the company Funky Lunch? They are based in the UK and offer fun food workshops for schools and fun food birthday parties. For people who are not lucky enough to be in their area, you can order a workshop kit and deliver your own funky lunch workshop at your school. The kit gives you all sorts of information, worksheets, tips and even a full day lesson plan.
I brought the Funky Lunch workshop to my daughters' school and last week I gave part 1 of the workshop to 116 children aged 6-9. You could make a whole funky lunch workshop day but we chose certain parts and split it into two sessions. For part 1 we had parent volunteers and teachers help with a bread, fruit & veg tasting and then I did some demonstrations of a funky face and gave a little introduction to the activities of part 2. I didn't have a chance to review all of the results of the tasting (we ran a bit short on time so the teachers kept the notes for class review) but I was chatting with them as they rotated through to my station. Almost everyone said that they had tried something for the first time that morning, and many said they discovered that they liked a new food.
I was pretty busy during the workshop and didn't have a chance to take any photos myself. I do have one photo of a finished demo that I made last week with the children. A friend emailed it to me - Thanks Tali Gabai-Maiato! I think it ended up being the best demo. It was MY favourite anyway.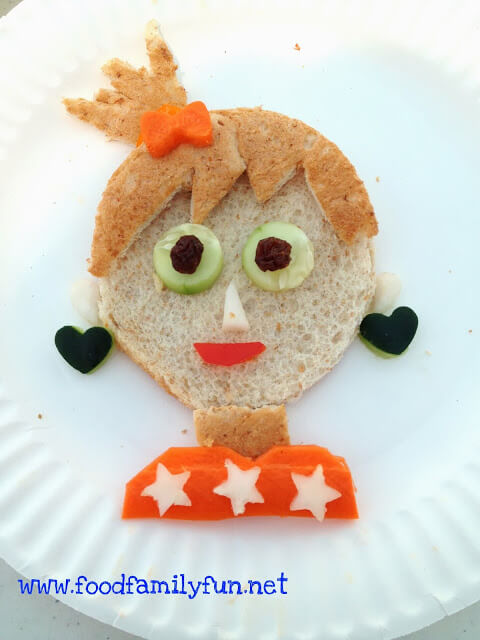 Funky Face girl made with - bread, radish, cucumber, carrot, orange pepper, red pepper & raisins.
There children were split into 6 groups so I made 6 demos. This girl was the last one. I asked the children for input as we went. They had lots of great suggestions - we should put a carrot bow in her hair, we should make radish ears - use the heart and then cut it in half to make two ears, We should use cucumber hearts for her earrings etc. They were having fun and I have to admit that I was having fun! The only tools used were a knife, and some cutters - 2 sizes of circles, heart, star & a mini bow.
I also made 2 aliens, a kitty cat face with a cherry tomato mouse, a butterfly with some flowers and a clown (
like in the actual funky lunch demo here
). You might notice that this isn't an actual sandwich. For the workshop we are only using 1 slice/layer of bread for the faces. If you wanted to pack this for lunch you would make the circle part of the face into a sandwich of your choice and then use either honey, peanut butter (or nut free butter) or similar to "glue" the embellishments to the sandwich.
Tomorrow I am giving part 2 of the
Funky Lunch workshop
I think this is going to be the REALLY fun part!
The children have now had the week to design their funky face sandwich and tomorrow they get to make them. During the demo I discussed all of the food choices that they will have available to use tomorrow. We'll have bread, carrots, cucumbers, red, orange, green & yellow peppers, scallions, broccoli sprouts, red and green leafy lettuce,
radishes, cherry tomatoes, red & green grapes, raisins, plus cheddar & Muenster cheese. I can't wait to see what they come up with!
Hopefully I'll be able to take lots of pictures this time. If I manage to take some photos of their finished creations, I will certainly share them on the blog (not the kids, just the food!).
There is a a bit of prep work to do before the workshop tomorrow. A little peeling, slicing and organizing all of the items on trays for the workstations. There were several really great parent helpers last week, I hope they are all coming this week too!