Rose had her Me Museum last week at school. It's kind of a fun thing. Every week it's a different person's turn and they bring in some items and photos to share all about themselves. We decided to make some cookies to share with the class as it represents one of her favourite things -- cooking!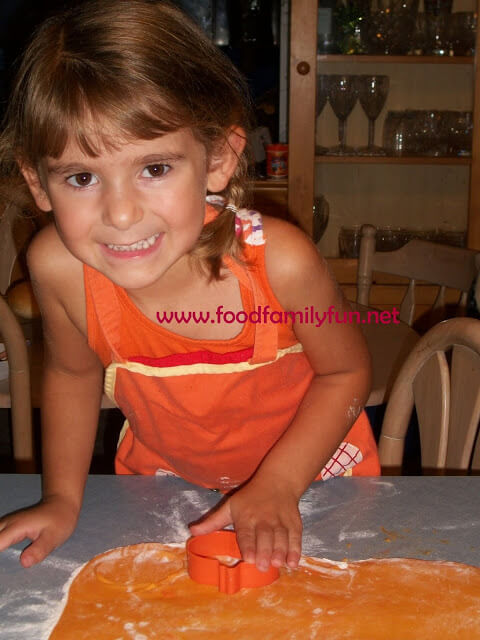 Here she is cutting out the pumpkin shapes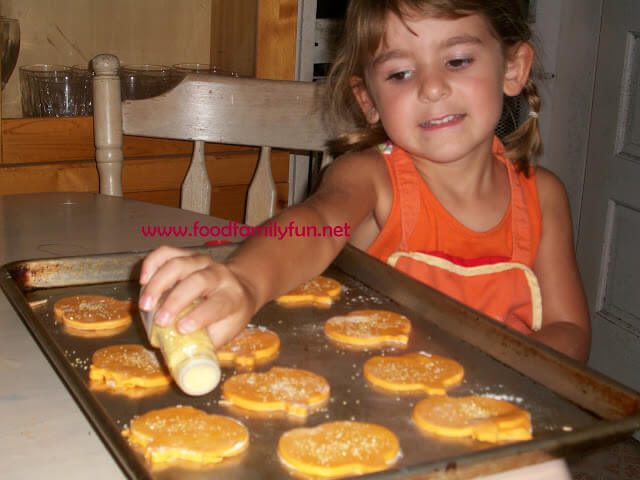 Putting on some sprinkles
Rose decided to take her spider craft that she made last week, some turkey cut and paste and colouring pages, some information about her name and a list of some favourites, her favourite book Bugs A-Z, her favourite stuffed animal, lots of photos of her doing various activities - gardening, swimming, dancing, gymnastics etc, a CD of her favourite songs, some family photos including our pets and lots of pictures of her cooking in the kitchen. She's really the go to kitchen helper in the family. Collecting the photos is the part where I did the most work to help. We talked about what she wants to bring photos of and then I just used the computer to arrange them on the pages and type a description where it's needed. We don't have to arrange these like a project. The teachers have a special board and they put them up each week :)
So how did Rose make these fabulous sugar cookies? Easy peasy. We made our favourite sugar cookie recipe --
Wilton Roll Out Cookies
-- and added some neon pink and regular yellow food colouring to make the dough bright orange. Then I helped roll out the dough as this recipe is a no chill dough and is very soft and a bit tricky for a four year old to handle. Rose cut out the pumpkin shapes, added the sprinkles and I did the oven work.
This is the pumpkin cookie cutter that we used: