Hearts again for the girls. What can I say I am just feeling the love these days <3.
Amy's Lunch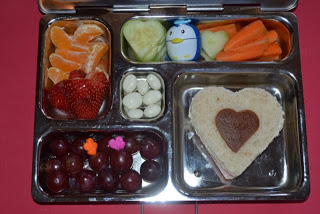 clementines & strawberry hearts, yogurt covered raisins
heart shaped cucumbers, penguin mini cup with peanut butter, carrots
grapes, heart shaped sandwich with fruit leather topper
Heidi's Lunch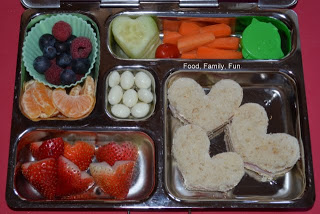 blueberries & raspberries, clementines, yogurt covered raisins
cucumbers, grape tomato, carrot sticks, ranch dip
strawberry hearts, 3 mini heart sandwiches
I think I accidentally deleted the photo of Rose's lunch! I can't find it on my camera and I have two photos of Amy's! She had the same sandwich as Amy, the same fruit and veggies as Heidi except adding orange pepper. It's a shame I deleted it by mistake. Rose had a little bit of everything leftover but she said her tummy hurt. She's OK now though.