I have been doing my best to keep the girls entertained this week. I am not too keen on taking Emily out and about too much as she's only 3 weeks old so we have been working on fun activities at home. Here's a few things that we have done so far.
All of these activity ideas were found on
Counting Coconuts.
I lack the time to be creative on my own right now!!
Cutting tray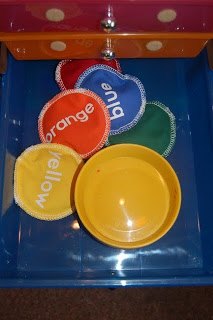 I purchased these graphics
here
and then made some very simple cutting strips. All three girls enjoy cutting so this was for everyone to work on. I didn't realise how much they loved cutting and I had to make tons more strips. Heidi chose to cut directly through the pictures and then cut her paper into 100s of little pieces, Rose cut hers neatly on the lines, and Amy cut out around the objects. Then I gave them all another sheet of paper and some glue and they glued their cuttings.
Tweezing Spiders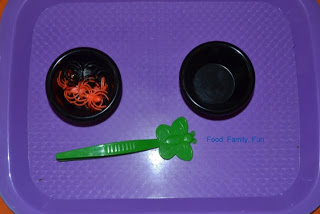 Amy was not interested (not surprised), Rose enjoyed this for about 5 minutes and wanted to cut paper again, and Heidi played with it a little bit and mostly used her fingers. Still a fun activity.
Lacing spiders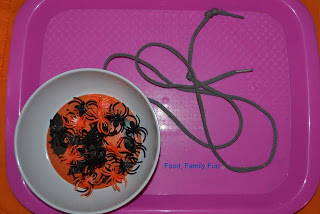 These little plastic spiders are getting a workout this week! Very easy activity and everyone is excellent at lacing but they still thought this was fun.
Pencil Sharpening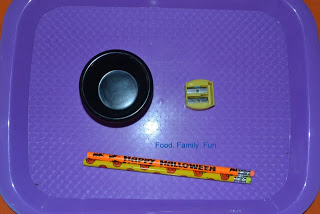 A family favourite activity. I only had two Halloween pencils around so only Amy and Rose had a turn. Heidi didn't seem to notice.
I also went online and found several different Halloween worksheets - colouring, cutting & pasting, patterning, etc. I printed some from
abcteach
and
Enchanted Learning
where I have memberships, plus
2 Teaching Mommies,
Confessions of a Homeschooler
, and
1+1+1=1
, This photo shows a few of them. If you are looking for some fun worksheets and activities, I recommend all of these sites - not just for Halloween.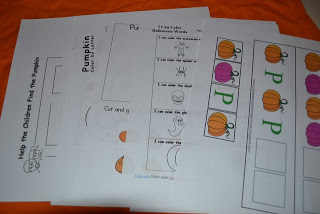 I should mention that our house does not have an area set up in the Montessori way with these trays all laid out in a certain spot. I do however appreciate the value of using a tray to define their workspace and contain all of their work items so we use them often for crafts and activities. They are especially practical for cutting activities and activities with a lot of parts. So on this day I set up the trays and put them all on the table and let them have at it.
I have some other crafts & activities planned so hopefully I'll have the time to get out my camera and share them!