Stars for Heidi - just because :)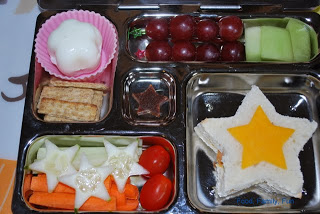 boiled egg, triscuit crackers, grapes on star picks, honeydew,
cucumber stars, carrot sticks, celery sticks, grapes tomatoes
Stretch Island Fruit Co cherry fruit leather star cutout
Peanut butter star sandwich with a cheddar topper
We are eating at home today and when she saw that Rose had 2 dips (one being yogurt) she wanted some dip too. So I gave her some ranch dip and she then proceeded to dip everything in it - LOL. She's still eating even though everyone else is finished!!